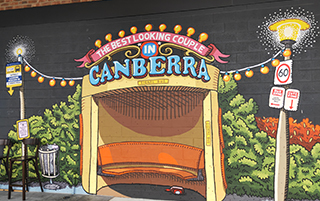 There is no shortage of things to do in the Woden area, whether you're after a foodie experience, a show or a business networking event. There is something for everyone! Learn more about some of the upcoming events:
Imposter Syndrome and Your Career - Thursday 28 November 12:30pm - 1:30pm
Do you ever feel like a fraud in your career? Like, perhaps one day your colleagues are going to find out that you're really not actually qualified enough, experienced enough, strong enough, assertive enough or "something else" enough? Maybe this holds you back from applying for jobs or really extending yourself in your career? If you resonate, this workshop is for you! In this intensive workshop, we'll dive straight into what imposter syndrome is, how it is showing up in your career and most importantly, what you can do about it. This isn't just wishy-washy material - we're talking about practical, actionable tips that you can take to overcome self-doubt and start chasing your career goals with intention and confidence. Find out more about this FREE workshop taking place in the Woden Town Square https://www.eventbrite.com.au/e/imposter-syndrome-and-your-career-tickets-80159419983
Woden Arts Fair - 7 December 11am - 2pm
Come along to the Woden Arts Fair which will be held in the Woden Town Centre from 11 – 2pm on Saturday December 7.Free workshops for kids, meet local artists and hear local musicians, connect with arts organisations, enjoy a sausage sizzle!
Doug Parkinson Honours Joe Cocker 5 December 8:00pm
Canberra Southern Cross Club - Woden, 92-96 Corinna Street, Woden Australia's greatest soul voice Doug Parkinson presents the ultimate tribute to Joe Cocker. A night of soul and rock classics, the electric current runs high, generated from the very talented 8 piece band and of course the powerful and unique voice of Doug Parkinson.https://www.cscc.com.au/whats-on/doug-parkinson-honours-joe-cocker
Hellenic Family Christmas Showcase - 15 December 5pm
A fun, family focussed event that showcases our children and youth. Be captivated by the culture and flair of the Canberra Hellenic Dancers! See a variety of traditional and modern Greek choreographed performances from our dedicated performers from Kindie groups and over. Photos with Santa STRICTLY between 4:30pm to 5:15pm. https://www.trybooking.com/book/event?eid=579015&
Teen Start-Up School Holiday Program - 13 & 14 January 9am - 4pm
Whether your child likes to design in Minecraft, on paper or by building elaborate models; our January Teen Start-Up School Holiday Program invites them to explore the world of urban design and placemaking. https://www.teenstartupcamp.com.au/news/108-teen-start-up-adventures-in-placemaking-13-14-january-2020.html