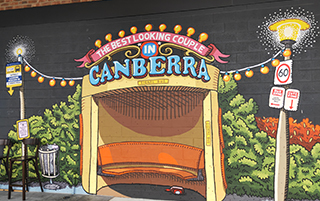 There is no shortage of things to do in the Woden area, whether you're after a foodie experience, a show or a business networking event. There is something for everyone! Learn more about some of the upcoming events:
Manage Type 2 Diabetes – Healthy Eating Clinic Online Workshop - 7.30pm Monday 3 August
In partnership with the Canberra Southern Cross Club and Stellar Canberra, the Healthy Eating Clinic presents monthly nutrition workshops.
If you are a newly diagnosed diabetic, chances are you might feel overwhelmed and anxious about what it means. It doesn't mean you need an extreme dietary overhaul. Small changes can have a big impact on managing blood glucose levels. There is also no such thing as a one-size-fits-all 'diabetic' diet. This presentation will help you find which approach is best for you, and break it down into something achievable and less intimidating. Please note, this is a webinar and it will be conducted online via Zoom. The setup is simple and the video will only be one-sided, meaning you can watch the session in your PJs. For more information visit https://www.cscc.com.au/whats-on/manage-type-2-diabetes-healthy-eating-clinic-online-workshop
ACT Community Sector NAIDOC Week Event via Facebook Live - 7th of July 11am
Where: Facebook + YouTube
When: 7th of July 11am.
Whilst official NAIDOC Week celebrations have been deferred. We would still like to bring the community together to commemorate Aboriginal and Torres Strait Islander culture during NAIDOC Week via a digital event. Participating community sector organisations will be hosting a live stream Q & A session with local community members to discuss the meaning and importance of Aboriginal culture to them, with particular focus on this year's theme - 'Always Was, Always Will Be'. Q&A facilitated by Dan Bourchier from the ABC; hear from panelists Matilda House, Billy Tompkins, Nevada Brown, Julie Tongs, Fiona Peterson and TJ Oberleuter. Tune in for special performances from Larry Brandy, Johnny Huckle and Greg Joseph. https://www.facebook.com/canberraNAIDOC/