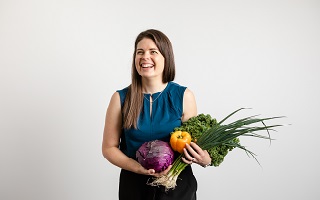 Kate Freeman, founder of the Healthy Eating Hub has been going from strength to strength and we caught up with Kate to chat about the exciting new developments taking place.
The Healthy Eating Hub has experienced some serious growth over the past 5 years. With two locations - one in Gungahlin and the other in Woden; the Healthy Eating Hub now employs five dietitians and three support staff. We spoke to Kate about a new product being developed that aims to scale the business Australia-wide and possibly even beyond.
Kate says, "We are passionate about helping people eat well long term so there's no 'quick fixes' or 'just download this meal plan'. We look at it is as a habit building program that teaches clients long term healthy eating by building one habit at a time."
"It's a systematic step-by-step micro education system which then connects you with a nutritionist so you can tailor it to suit your needs".
Eventually Kate hopes that this process will be available at someone's fingertips through the use of an app. Currently, it is offered as a web-based program with a growing subscriber base.
The Healthy Eating Hub is passionate about helping clients achieve their health-related goals and works with a diverse range of clients.
"Pretty much anybody who needs help with their food for whatever reason, we can help you" says Kate.
"We have a paediatric dietician who can help you with babies, toddlers and children. We can help with anything from allergies and intolerances, starting solids, fussy eating and even health weight management.
"We can help with sport and performance nutrition regardless of whether you are an endurance runner or play team sports. We also help with weight gain and weight loss management, managing diabetes, kidney disease, or gut health; really we can do it all," says Kate.
One of the Healthy Eating Hub's key points of difference is their approach to client journeys.
"We really care about people's long term success. We don't just want to meet you for one session hand you a list of the foods that you can and can't eat and say see you later and good luck.
"We want to build a relationship with you and go on a journey with you to find out how healthy eating fits in with your lifestyle. This isn't something that happens overnight. It is about building your skills and finding out what works for you and having that person who in a non-judgemental way can help you to apply it to your life".

"So, we do things slowly and one step at a time so that you are making achievable progress that is sustainable in the long run. We create an individualised pathway showing you how you can get from where you are now to where you want to be. Then we walk that pathway with you".
The Healthy Eating Hub has also worked closely with a number of Canberra businesses.
"We worked with the Southern Cross Club a number of years ago to refresh their kid's menu. This was a super exciting project that was also supported by the University of Canberra.
"Now the menu has a good mix of different foods that are not just fish and chips or nuggets and chips. You can get a whole foods tasting plate, healthy Spaghetti Bolognese, chicken and vegetable kebabs, and the 'make your own tacos' are very popular," says Kate.
Where next for the Healthy Eating Hub?
"We are looking at taking the brand Australia-wide and exploring how to make that happen. One of the ways is through our online program and we are looking at further building on ways that clients can access qualified nutritionists and dieticians in an easy and affordable manner."
For more information about the Healthy Eating Hub visit https://www.healthyeatinghub.com.au/