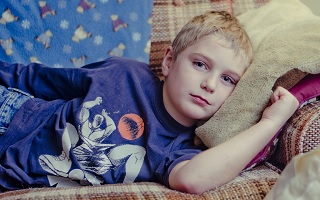 When it comes to medication, it's important to remember that your child is not a 'mini adult'.
Children can be more sensitive and respond differently to medicines than an adult. Your community pharmacist is an easily accessible and helpful resource when you need to know how to administer the correct dose of medicine; what medicines you can combine; how to store medicine safely; and what side effects to look out for.
Be 'medicine wise' and make healthy choices for your family when it comes to the use of medicines:
1. Drug interactions – Before your child starts taking medicine, it is important to identify what other medicines they have been taking, this includes medicines that their doctor has prescribed; over the counter medicines; and supplements such as vitamins or herbal medicines. Most people see their pharmacist more frequently than their doctor or specialist and if your family has been going to the same pharmacy for some time, your community pharmacist may have a more complete picture of the medicines your child has been taking.
2. Dosage and side effects – It is important to watch for side effects when your child starts taking any medicine. Discuss any concerns you may have with your pharmacist or doctor. Your doctor may decide to adjust the dosage to manage the side effects. If your child takes medicines for a chronic condition, as they grow and mature your doctor will also regularly review whether your child still needs the medication and whether the dosage needs to be changed.
3. Taking the medicine – Getting your child to take their medicine can often be a challenge. Some children may resist taking their medicine because of the taste or a reluctance to swallow tablets. A compounding pharmacy can work with your doctor to prepare the medicine in a form that suits your child. This could include trying different flavoured mixtures or even different forms such as gummy gels, lollipops or lozenges. A compounding pharmacy can also compound medicines to be colour free or without preservatives for children who have allergies.
4. Medication adherence – With many medicines it's important that your child takes the recommended dose at the right time of the day and for the correct length of time. When filling your child's prescription your pharmacist may notice that your child is taking more or less of the medicine than they have been prescribed. Your pharmacist is not only a great source of information about medicines; they are also a great resource for problem-solving. If you are struggling to manage multiple doses a day, sending medicines to school, struggling with multiple conditions or your child is experiencing side effects; speak to your pharmacist. They can help you make a schedule, provide suggestions for including medication in your child's daily routine, or help you to use repeat reminders.
5. Stopping medication – Whether or not your child will need to take a prescribed medicine every day will depend on what medicine they have been prescribed and their treatment plan. Some medicines need to be taken every day to reach a therapeutic level, whereas others only need to be taken when your child needs it. With some medicines it's important that your child is slowly weaned off them rather than stopping suddenly. Speak to your doctor or pharmacist if you have any questions about stopping a specific medicine.
6. Techniques - If your child needs to carry or take medication for allergic reactions, diabetes, epilepsy or asthma it's important that they understand the basics of their condition. They need to know what medication they are taking and when; where and how it is stored; and how it is administered. Over 90 percent of people with asthma don't use their inhaler the correct way, so when you are replacing inhalers, ask your pharmacist to check your child's technique and the use of their spacer. pharmacists are qualified to give expert advice on asthma and can explain how your child's reliever or preventer inhalers work, as well as suggest some easy ways to improve how they are using them.
Whether your child takes medicine for a chronic condition such as asthma; needs over the counter remedies to relieve the symptoms of a cold; has been prescribed antibiotics for an infection; or requires medication as part of an ongoing treatment plan for other conditions; your community pharmacist can assist you to manage your child's medication. Speak to the friendly team at Capital Chemist Hughes for advice and support for your family's health needs.