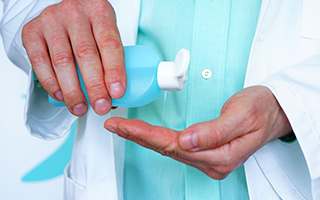 Washing your hands frequently can stop the spread of germs and viruses. Doorknobs, the button on the photocopy machine, the kettle, taps, microwave door, refrigerator door handles, TV remote buttons – they are all places with high hand traffic and therefore the potential to spread viruses and bacteria across the office and your home. For hand hygiene to be effective it needs to be consistent and thorough.
Here are 5 hand habits to prevent you from getting sick and spreading germs.
1. Wash your hands frequently - including before, during and after preparing food; before changing contact lenses; before eating; before and after caring from someone who is sick or who has diarrhoea or vomiting; after you have blown your nose, coughed or sneezed; after using the toilet; before treating wounds; after touching the garbage; after changing nappies or assisting a child who has used the toilet; after touching pets, working with their food, or picking up their waste.


2. Wash your hands the correct way - When it comes to young children it can be hard to explain to them about germs when they can't see them. A visual way to get the idea across is to put glitter on your child's hands and then get them to wash their hands with just water and after that with water and soap. It's a great introduction to a discussion about what constitutes effective hand-washing. You can also put some glitter on your hand and then touch your child to show how germs are spread. This provides an opportunity to talk to your child about when they should wash their hands. It's also important to demonstrate the correct way to wash your hands.
a. Wet your hands with clean running water. The water can be either warm or cold.
b. Apply enough soap to cover your hands and switch off the tap. Rub your palms together and then your palms over each other with your fingers interlaced. Clean under your nails, the backs of your fingers and your thumbs. This should take at least 20 seconds. For children, you can get them to sing the 'happy birthday' song twice as a reminder.
c. Rinse your hands with clean running water.
d. Dry your hands using a clean towel, if possible a single-use paper towel or air dryer
3. Use alcohol-based hand sanitisers when you can't use soap and water – Soap and water should always be your default option, however if they are not available alcohol-based hand sanitisers are another option. Hand sanitisers do not get rid of all types of germs and need to contain between 60-80% alcohol to be effective1. If your hands are dirty or greasy they are also not as effective. Make sure to apply sufficient sanitiser to cover all surfaces of your hands and rub your hands until they are dry (about 20 seconds).
4. Watch what your touch - germs like influenza can survive for many hours on hard surfaces like stainless steel and plastics and up to an hour in the air in enclosed environments like your office. Most cleaning companies don't clean keyboards because they don't want to risk damaging them, so make sure to wipe down surfaces. Normal household cleaning products containing detergent are fine to use in the home or office and no special chemicals are needed2. The best way to avoid spreading germs in your family is to frequently wipe down with all those surfaces which are touched by multiple people during the day. This could include doorknobs, the TV remote, microwave, refrigerator door and the kettle. Avoid serving meals 'family-style' where people are sharing serving spoons, or using their hands to help themselves to food or snacks.
5. Avoid touching your face - We touch our faces numerous times in an hour and when you are using a phone you're bringing germs and bacteria right up to your face. Everyone must practise good hygiene to protect against infection and prevent COVID-19 from spreading. For more tips on protecting yourself and your family, visit the Department of Health's page on good hygiene practices for coronavirus.
Speak to the friendly team at Priceline Woden about your family's health care needs.
1Australian Government National Medical and Health Research Council (NHMRC) 2020, Australian Guidelines for the Prevention and Control of Infection (2019) https://app.magicapp.org/app#/guideline/4116
2 Information about routine environmental cleaning and disinfection in the community https://www.health.gov.au/sites/default/files/documents/2020/04/coronavirus-covid-19-information-about-routine-environmentalcleaning-and-disinfection-in-the-community_0.pdf