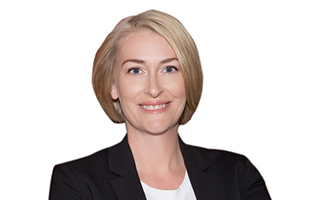 Claire Corby is a buyer's agent. She is the kind of person you want in your corner if you are planning to buy a house, especially now that online auctions and virtual tours have become part of the buying process.
Research by Allianz at the end of 20191 found that one in two people found the home buying process stressful, affecting their mental and emotional wellbeing. Lack of information was identified as one of the biggest stressors. Now add the fear and uncertainty around COVID-19 to this already stressful process and both buyers and sellers are left feeling nervous. While an agent and auctioneer act in the best interests of the seller, a buyer's agent is an advocate for the buyer.
The pros and cons of online auctions
According to Claire, when the COVID-19 restrictions came in, a lot of auctions were brought forward that were due in early April and were held at the end of March. There was a lot of fear and uncertainty in the market, and there still is. Claire says that during this time there were some interesting sale prices because vendors were so focused on selling that they took what they could get on the day.
Moving from that a lot of agencies adapted and moved to online auction platforms. The technology has been available for some time but has some limitations.
"There's online streaming, but it can be patchy, which is not great," says Claire.
"Auctions are not always fast and furious, the pace ebbs and flows with the different stages in the process. There would be times when you are bidding online and there might be a 20-minute break where the agent had to go and speak to the vendor to get them to adjust their price. The buyers would be looking at a blank screen wondering if their feed had broken, madly refreshing because they didn't want to lose the auction. This creates a lot of extra stress for buyers," says Claire.
Claire also points out that one of the biggest problems with online auctions is that they don't give the buyer the transparency that an in-person auction does.
"Depending on the platform used, you can't tell how many other bidders there are or observe their behaviour – you might be bidding against yourself!" says Claire.
She says that during this time a lot of buyers just went 'I'm not going to take part in that process, I'm not comfortable with that'.
"However, the one upside of the online platforms was that it allowed people to keep working. Now that we are back to being able to have in-person auctions and viewings, it is interesting to see that some agencies have continued with the online platform".
According to Claire, online auctions make it easy for the sales agent as buyers have to register online. However, it's very isolating for the buyers.
"Normally, the buyers are pretty much alone to start with, but now they are even more alone - at home shaking in their boots until they get a phone call to say place a bid now or you will lose the property.
"There's no transparency which is hardly fair," says Claire.
"I think online auctions have a way to go if they are to compete, at least from a buyer's perspective".
Viewing a property online
Claire believes the problem with virtual tours is that it comes down to a fundamental conflict of interest. The agent is there to point out all the great features of a property.
"Buyers would say there's already a walk-through video available online and I would say compare my online walkthrough with their online walkthrough and you will see the difference is night and day. My walkthrough is not designed to be super-glossy, it shows all the bad bits of the property as well as the good but with an objective eye. Someone trying to sell you something is always going to show you the best bits.
"Here's the beautifully renovated kitchen and then they gloss over the fact that the appliances aren't very good quality, or maybe the outlook in one direction isn't favourable so they show you the view from the other direction.
"There's a sales filter over everything because their job is to try to get buyers over the line at a time when a lot of buyers are feeling worried and hesitant," says Claire.
The Buyer's Agent offers a different perspective
There are many buyers that are reluctant to visit properties. They might be older, immune-compromised or can't get to Canberra because of travel restrictions.
For these buyers being able to view a property walk-through online is a plus-point. However, Claire points out that a facetime walkthrough is a very flat representation of what a house is like. Her approach is to use 360-degree cameras.
"I spend 30 minutes going through a property, opening cupboards and looking through all the nooks and crannies and the details of the property. I also look at the streetscape, neighbours, location to shops, schools etc. This is far more than 2 minutes on the phone with someone who is just going to show you the glossy bits.
"People are spending big money when they buy a house so the risk is huge," says Claire.
She thinks that is one of the reasons a lot of buyers have just tapped out and decided that they are going to sit on the sidelines until next year if they don't have to move.
Given the uncertainty in the market, Claire believes buyers have fallen into two camps.
There are those who are risk-averse and hesitant to get locked into anything, whether that's putting a tenant in place when there's a moratorium on evictions or buying a property for themselves. They just feel the risk is too high.
Claire says a lot of property investors have decided to wait until next year. Others aren't sure, but if the right property becomes available then they will go for it.
The Coronabuyers
According to Claire, once we got passed Easter people became more confident and in fact, there were 7 suburb records set in March/April and early May.
People are buying property but there's very little stock available on the market. Claire explains that there are a number of reasons for this. We have a large transient population. We also have a large number of public servants with good, stable incomes. Interest rates are at a record low. Then in January, we had the smoke from the bushfires. This was followed by a hailstorm and some properties were damaged and repairs had to be made. This meant that people were shelving their plans to sell.
"Buyers were complaining that there was nothing on the market and we were saying there are all these external things that have happened, but wait for March and April and that's when we will see a peak in properties. Then of course, Coronavirus hit," says Claire.
"When you factor in buyers who have secure jobs and pent up demand, and there's a very short supply on the market, when a good property comes up there's strong competition".
"You would see 12 active bidders on a property, which is very high and these are bidders who were willing to transact," says Claire.
She says there is also a third group of buyers. Those that are only interested in absolute bargains. They are the ones who are looking for a distressed vendor who will accept a low offer. Claire says if people are expecting Canberra property prices to fall by 30%, she does not think this is likely. However, who knows what will happen when we get to the end of Jobkeeper.
"The Canberra market is normally very busy in springtime, but October could be a different story if we see more properties come on the market and jobs are impacted," says Claire.
"It's hard to have a crystal ball. It is like we are living through a massive social experiment at the moment, but we have a pretty strong and stable economy underpinning jobs here in the ACT".
How to educate yourself
Recognising how stressful buyers can find the buying process, Claire has been toying with the idea for an online education course for buyers for over two years.
"I've just never gotten around to it because I've always been too busy, but I said to myself in March – if clients are going to shelve their plans, maybe I've got an opportunity to really dive deep and create this thing."
Claire firmly believes the buying process is less stressful if you educate yourself.
"The course is designed to be like having a buyer's agent hold your hand and walk you through the process," says Claire.
"I find my biggest problem is that I'm not able to help everyone who asks for help. This is why I saw the opportunity to distil the information of how I work with my clients into a really simple format".
A lot of people believe they know what they are looking for in a house, but Claire really wants to challenge that and make sure it's realistic and that they're not just chasing unicorns.
She stresses the importance of assembling your A-team. Who is going to be on your team so that when we get tricky questions, you can ask the right questions of the right people? For example, you don't want to ask the real estate agent whether you can develop a site, they aren't qualified to answer that question.
"The course is a week by week guide, giving people a little bit of knowledge and learning and then having them go away and apply it in their context. This is followed by weekly check-ins with me so you know you have someone to talk to and somewhere to turn to.
"We go all the way through, right to when you've found that property and you've bought it and you've gone through the settlement process. It also looks at things like have you updated your Will and do you have income protection in place should you should lose your job. Of course, in the middle, we've got a lot of information about how to find the right house and how to work with agents, and how to get the right price".
The course will go live at the end of July so people can take advantage of the Spring market
Claire believes that if online auctions and virtual tours are going to be an ongoing thing, then buyers do need to educate themselves because once you sign a contract it's legally binding.
Claire says that many people didn't even realise that a buyer's agent is an option, but now many sales agents are even recommending it.
If you need some impartial advice, a sounding board or someone who is on your side of the fence with no vested interested and complete transparency, then speak to a buyer's agent like Claire because buying a house is meant to be joyful, not stressful. Especially with the financial uncertainties that we are experiencing right now, the cost of getting it wrong and paying more than you should; could have major implications down the track.
For more information about Capital Buyers Agency and to get in contact with Claire Corby, visit http://www.capitalbuyersagency.com.au/
1 https://www.allianz.com.au/media/news/2019/buying-a-home-impacts-the-mental-health-of-one-in-two-aussie-buyers