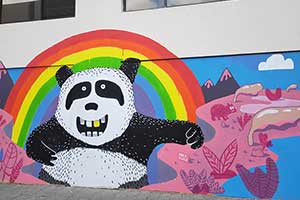 For many adults creativity is something that isn't always prioritised even though there are multiple benefits to expressing and exploring your creative side, not least being stress relief and self-expression. The good news is being creative doesn't always have to mean a major project, there are plenty of things you can do even in a few minutes a day. The Woden area has plenty of services, stores and expertise that can help you indulge a range of creative pursuits no matter what your interest. Below is a small taster of what you can find in the Woden Valley that can help you unleash your inner creative.
Addicted to Fabric is a family-owned and operated business located in Dundas Court in Phillip and is absolute heaven for anyone interested in textiles, fashion design, fabric mosaics and quilting. The staff love fabric and are experienced in various sewing techniques and are always happy to answer your questions and offer suggestions to help you with your project. Addicted to Fabric has a wide collection of contemporary and eclectic designs to make your project stand out from the rest. On top of providing unique materials and expert advice, Addicted to Fabric also run a variety of workshops. There is no need to feel intimidated by the world of textiles because their workshops cater for beginners all the way to advanced.
Eckersley's Art and Craft offers an amazing collection of materials no matter whether you are a beginner scrapbooker, experienced painter, an architect needing technical drawing supplies, or even looking for a special gift for a child's birthday. Eckersley's dedicated staff are very knowledgeable and are there to offer advice and suggestions.
If you prefer expressing your creativity through movement, Warehouse Circus is a not-for-profit organisation that has been providing social circus classes in Canberra since 1990. Located at the Chifley Health and Well-being Hub, the programs at Warehouse Circus cater for ages 0 - 5-year-olds all the way up to 50+. If you want to get out of your comfort zone, learn unique skills and broaden your social group, give Warehouse Circus a try. With their supportive team and empowering values Warehouse Circus is a fantastic place to explore and expand your creative side.
Better Music has a team of over 50 staff dedicated to helping you find the best product at the best price and are able to answer just about any music-related question you have. Everyone from beginners to experienced professional musicians are looked after at Better Music. Better Music also has a team of expert technicians that can help get your former instruments back into great condition. Furthermore, if you know that you would be interested in exploring music as a creative outlet but are undecided on which instrument to pick Better Music offers instrument rentals.

From fabric to musical instruments, arts and crafts and circus trapeze; there is no shortage of creative outlets, workshops, materials and experienced staff that can help you explore and enhance your creativity in the Woden area.