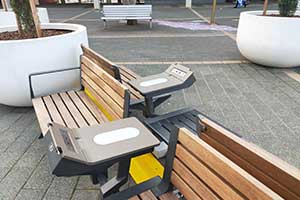 Whether you are determined to get a special gift for a loved one, have a niche hobby, or like op-shopping for retro fashions; the Woden area has your retail needs covered.
Let's start with Little Sprout. Located in Colbee Court Phillip, Little Sprout is different from your generic franchise toy store, stocking a unique range of quality crafted toys and exclusive brands. Little Sprout is a family-owned business, managed by Brooke a qualified primary school teacher and mother of two who carefully selects products based on value for money and quality. The extensive range of products at Little Sprout includes toys for the eco-friendly, sensory toys, construction and building toys, as well as dress-ups, costumes and educational toys to name just a few. Whether you are shopping for your child, niece or grandchildren, Little Sprout is your first stop for presents and educational toys.
Jute Upholstery is a furniture restoration and bespoke upholstery studio based in Torrens. Jute's founder Susan is a traditionally trained and experienced furniture restoration and upholstery expert who has worked on an impressive range of projects including for clients such as Nike and Myer. For some impressive inspiration and an incredible demonstration of the skills, attention to detail and creative flair required for upholstery, have a look at Jute's Instagram (@juteupholstery).
99 Bikes is a bike store located on Botany Street in Phillip and is open 7 days a week. The employees at 99 Bikes are passionate about everything bikes and enjoy supporting and advising their customers on any bike-related topics. Every 99 Bikes store has a complete bike mechanics workshop. There are also qualified bike mechanics that can provide servicing and repairs on all bicycle brands and models. Whether you're new to the cycling scene or a seasoned rider 99 Bikes has the services, products and expertise to help you achieve your bike riding goals.
Asian Provisions in Phillip is the oldest Asian grocery in Canberra since 1977! Specialising in Indonesian, Malaysian, Singaporean and Southeast Asian food products, owners Patricia Paraswati and Jason Ho have brought a fresh perspective to a business that had been operating for over 40 years. Building on the current passion for TV cooking shows and the growing interest from outside of the Asian community, Asian Provisions is the perfect place for those customers keen to try and re-create a dish they have seen on TV and looking for speciality ingredients.
Salvation Army Op Shop is a fantastic op shop located on Botany Street in Phillip. Whether your goal is recycling and environmental sustainability; wanting to support a charity; or just hunting for some affordable pre-loved fashion; there are lots of reasons to go op-shopping. Products range from electrical, jewellery, clothes and everything in-between. There's a wide range of styles and good quality items and can be a treasure trove for those looking for something unique. Open every day except for Sunday the Salvos Store is a great place to browse, explore and shop.
Better Music is the place to go, whether it's your first instrument or your latest. If you need your violin repaired, planning to upgrade your flute, wanting some advice about your musical instrument, or just love having a browse in music shops, pop into Better Music. Musical instruments can be incredibly sensitive and expensive, having access to knowledgeable and dedicated staff is essential no matter whether you are just starting out or have been playing for years. Better Music aims to support and welcome any and all questions related to music. First opened 40 years ago, Better Music is Australian-owned and operated and in 2013 opened a brand new purpose-built largest musical instrument store in Australia.
Addicted to Fabric is located in Dundas Court Phillip and is absolute heaven for anyone interested in textiles, fashion design, fabric mosaics and quilting. On top of providing unique materials and expert advice, Addicted to Fabric also run a variety of workshops. There is no need to feel intimidated by the world of textiles because their workshops cater for beginners all the way to advanced.
Toy stores, upholstery, musical instruments, bike technicians, speciality grocers and vintage second-hand clothes are just some of the unique businesses you will find in the Woden area.