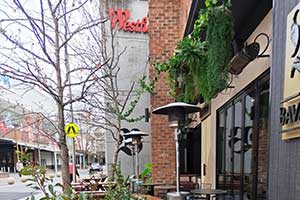 Woden is a hub if you need to get something done. Everything from legal advice, unique battery solutions, dog grooming and florists - the Woden area has it all!
Did you know hearing aid batteries are activated by air, or that marine batteries differ in design to car batteries? When we think about technology innovations that impact us on a day-to-day basis we often think of smartphones, wearables, laptops and tablets. While everything is becoming more portable and they're all battery-powered, we don't necessarily think about batteries as being particularly innovative. However, this industry is evolving rapidly. At Battery World in Philip, they even supply specialised batteries for medical equipment like sleep apnea machines and the devices that look in ears and throats.
Gillespie & Co are located on Corinna Street and provide a variety of financial services. The team at Gillespie & Co have a wide range of experience when it comes to business, wealth creation and protection, taxation and accounting. Whether your business needs bookkeeping, budgeting or business loans, Gillespie & Co offer a flexible way to fit into your schedule whether it's coming to you, after-hours consultations, or even remote access to accounting files to update your data in real-time.
Ivy Flowers & Gifts is a florist located in Curtin Place. The range of flowers and gifts is impressive with flowers that are insanely fresh and are hand-picked from the Sydney markets. Every bouquet is carefully designed and unique. There is also a gift shop that stocks a variety of gifts including homewares, jewellery, terrariums and baby and children products. Whether you've left a gift to the last minute or need a qualified and experienced florist to help you design the perfect bridal bouquet, Ivy Flowers & Gifts has you sorted.
KJB Law describes themselves as a modern progressive law firm. Located on Corinna Street, KJB Law has been in Canberra for over forty years and can provide legal support and advice across a variety of topics including family law, personal injury, damage compensation, police matters and court appearances.
Skilltech Driver Training Professionals is a dedicated and experienced driving school located in Mawson. We all know the stress, arguments and frustrations that come with teaching a loved one how to drive, so why not leave it to the professionals. A well respected Driving School in the Canberra region, Skilltech have over 40,000 lessons of driver instructor experience.
Isabel's Dog Grooming located in Colbee Court Phillip is one of the leading dog grooming salons in Canberra. Whether your pooch needs a wash and dry, a full groom, or special styling, Isabel's Dog Grooming can look after your canine. Owner Isabel insists on the highest level of grooming and personally checks all dogs before they leave the salon. Isabel's Dog Grooming also offers a grooming school and for both an adorable and impressive selection of their work visit the Gallery section of their web page http://isabelsdoggrooming.com.au/gallery/.
Woden Community Service is located on Corinna Street and was established in 1969. Committed to building strong communities and creating connections, Woden Community Services has been delivering a wide range of services supporting children, families, young people and seniors for over 49 years. With community events delivered in partnership including the Woden Experiment, Lift Off Youth Music Festival, Woden Valley Festival and an annual Easter egg hunt, Woden Community Services play an important role in the community.
When it comes to services Woden has plenty to offer!