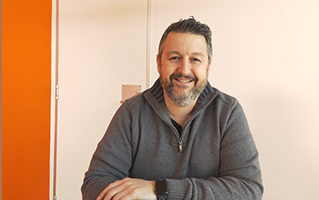 Emilio Park is a graphic designer by trade and entrepreneur by aptitude. They say entrepreneurship is a combination of passion, smarts, luck and persistence and Emilio's route to becoming the owner of Kwik Kopy in Phillip is testimony to that.
Emilio studied graphic design at CIT and then went on to the University of Canberra. Backing up book smarts with developing real-world experience in the fast-paced world of agency life, he then went on to work for one of the biggest graphic design agencies in Canberra. Rounding out his experience with big government projects and a little more study; Emilio was ready to embark on his first entrepreneurial adventure. Working in partnership with three other designers, they set up an agency called Four Design. Later, after going out on his own, this is where the Kwik Kopy story begins…
"I leased a space right next to Kwik Kopy in the city and became great friends with the ladies that owned it," says Emilio.
"I did a lot of work for them and they did a lot of work for me, we had a very symbiotic relationship.
"When I later moved my office to Fyshwick and saw that Kwik Kopy Phillip was for sale, I rang the ladies in the city and asked them what it was like as a franchise. They had a lot of good things to say about the franchisor and mentioned that Kwik Kopy was actually progressing into the design area".
Emilio could see the opportunity to combine his graphic design knowledge and skills with Kwik Kopy's capability in printing.
"I went into partnership with the ladies to buy Kwik Kopy Philip and then a couple of years ago I bought them out and along with my wife have been running it ever since," says Emilio.
According to Emilio, when it comes to design and print, the landscape is constantly changing and the great thing about the Kwik Kopy franchise is that they want to stay ahead of these changes. Emilio jokingly says that at Kwik Kopy if you can stick a logo on it they can do it.
Emilio points out that many of their clients, which range from Government and big corporate clients to small tradies and home-based businesses, have been with them for many years and have a diverse range of needs.
"We do websites, graphic design, marketing, mail outs as well as digital print," says Emilio.
"We do wide format printing for signage, posters and pull up banners. A lot of the printing is done in-house, but we also have hubs all over the country where we can produce things like offset printing, merchandise and all sorts of things.
"The industry is evolving, it isn't just print anymore and customers who used to print 20,000 of something to distribute are now printing 5,000 and then targeting their clients in a direct way so we find that we are really positioned well for that niche because the bigger printers still want to print the 20,000 because they've got big ten million dollar machines. Our machines are a lot smaller and a lot cheaper but produce the same quality at a smaller run," says Emilio.
"When I first took over about 12 years ago the database of artwork was a bit of a mess and because I am a graphic designer, the first thing I wanted to do was organise that, so not only do we keep our client's artwork we archive it.
"I still have artwork that I did 12 years ago and it's archived and backed up on hard drives and if somebody said I came to you 12 years ago with my business card and I want to reprint it, I'd be able to do it!"

For anyone who has ever hunted for old artwork, this is a good enough reason alone to use Kwik Kopy. Kwik Kopy is also a bit of a hidden gem when it comes to those with limited access to marketing and design expertise.
"The first consultation is always free," says Emilio.
"Because you are spitballing ideas on the spot and the customer is actively involved in their marketing, I find that those businesses can actually weather a storm a lot better than others who invest little time and effort in their marketing.
"Based on the marketing plan we come up with, which may include web design, graphic design, printing, distribution, mailing etc., we can provide a quote for all the elements and then manage the implementation. For example, we can create an email blast for you that goes out monthly. It comes with reporting so you'll be able to see how many opens and click throughs you get and you don't have to worry because we follow all the rules and regulations so if somebody unsubscribes we take them off the list".
When asked about 'creative differences' between client and designer, Emilio has the following to say:

"Because I've been in this game a very long time, I think that I've lost the precious designer syndrome where you really want your design to be used because you think it is the best. I think I have transcended that and I do sit down with customers and respect that at the end of the day the choice is theirs and it is their money. I certainly will advise a client when we don't think an idea will work, and while all the graphic design tools are available to everybody and anyone can buy InDesign, illustrator or Photoshop - the tools do not make you a graphic designer.
"Graphic designers are skilled, trained professionals and they know their stuff, they went to school for 4 years to get their degree. Companies who value their brand and their marketing are never going to go down the track of having an unprofessional design.
Emilio says he once pointed out to a lawyer who questioned the cost of artwork that if he went to court he could defend himself, that it is his right and he could do it. The judge would properly say it would be a bad idea, but he could do it. Alternatively, he could hire a lawyer and get the job done properly.
Fail at communication and you fail – end of story.
For more information visit Kwik Kopy.