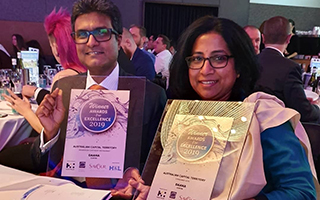 Described as a 'little piece of South India, tucked conveniently into South Canberra", Danna has specialised in selling the taste of great Indian food since 2015.
Sunita and Sanjay trained as chefs in India and between them have many years' experience working in the hospitality industry including hotel, airline and restaurant industries. After migrating to Australia in 2012, they started their path to business by focusing what they saw as a gap in the Indian food scene – the need for authentic South Indian, regional Indian and Street foods of India in Canberra, and their passion for cooking.
Sanjay likes to say that their 40-foot journey began in 2015 when they opened their first food outlet in a shipping container in Westside on the shores of Lake Burley Griffin. "We started with the intent of showcasing the street food of India and really testing the waters for presenting the food we wanted to do- South and regional Indian cuisine," says Sanjay. Sunita adds that when they started there was no Indian restaurant offering street foods of India as the core offering of a business.
She and Sanjay like to believe they introduced these great flavours to Canberra's foodies.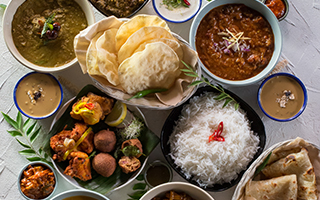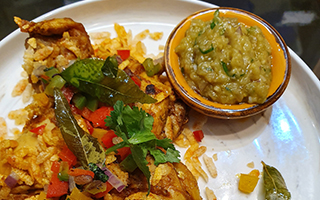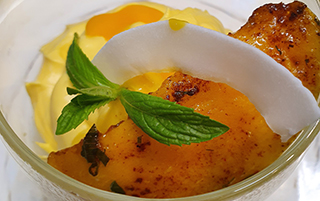 "Every city in India has its own unique street culture where you know the food is different from what you would cook at home. In India, street food is about gathering with a group of friends, for a talk and a quick bite or a full meal, and you know it is friendly on your pocket, fresh and fast," says Sunita.
What most people don't know about Indian food culture is that there are dishes that are synonymous with different parts of the country. Whether it is Vada Pao and Pao bhaji in Mumbai, or Kolkata's Kathi Roll and Ghugni Chaat, the choice is endless. In fact, says Sunita, in Dehli street food is defined by a term all of its own, Chaat which literally means finger-licking good food. There are lots of chutneys, herbs, spices and fresh ingredients thrown together to give you something that is different in every food stall.
"Everyone has their own unique blend of chutney which makes their food different from the rest".
Sunita says, "When we started in the shipping container, our menu was a mix and match of dishes; it was a very flexible weekly menu. When we moved to the restaurant, we continued serving the big menu, but finally realised that this approach was better suited to the container. So the restaurant now specialises in Southern Indian and regional cuisines.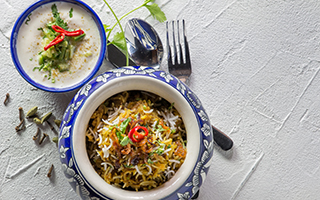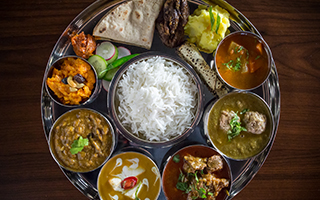 Sanjay and Sunita have lived across all major states and cities of India, and have along the way picked up a few tricks and secret recipes from great home and professional chefs. The food in India is so varied partly due to the many influences, including religious, cultural and environmental on cooking techniques and styles. The variety has had a major impact on how Daana created its menu.
Daana is known for its unique al-a-carte menu that changes with the season, and also for the Saturday Regional Thali special- where each weekend they present an eat-all-you-can 'Thali' meal (similar to a tasting tapas-style meal) from different regions of India.
"We have not seen this kind of offering before in Australia, and definitely not in Canberra".
"These innovations, and the many other unique things we do at Daana, has seen us take home prestigious Restaurant Catering Association industry awards three years running in Canberra starting 2017 with Best New Restaurant, 2018 and 2019 Best Indian Restaurant and 2019 Consumer Vote awards".
Sanjay and Sunita are humbled and grateful for the support and love they continue to receive from their guests and community.
The number of Indian restaurants has continued to grow in Canberra, but Sunita says that many Australians still think that of Butter Chicken and Rogan Josh when they think Indian cuisine, when there is a whole lot more, yet to be experienced.
"Funnily enough we haven't heard of some of the dishes back in India, that have in fact become a main-stay in many Indian restaurant menus here in Australia. There has been a lot of adaptation to suit local tastes, but we are trying to present Indian cuisine the same way it would be presented if you were going to sit and dine in an Indian family home".
The other unique element of Daana is their contribution to the Canberra community, including their Karma Kitchen, which they have been running since opening the restaurant as well as employing people with disabilities.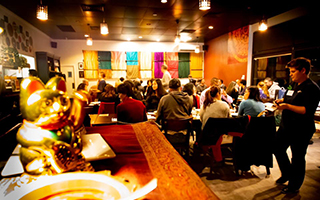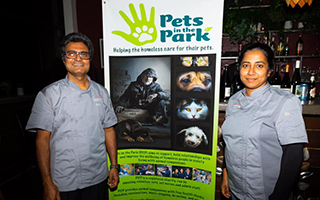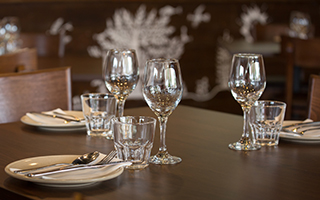 Karma Kitchen.org was started by an Indian American in Berkeley, the idea is that a group of volunteers take over a restaurant for a cause and raise money by paying it forward. Guests pay what they want for their meal and half of the funds raised that day go to the charity. Sunita said they knew that when they had the opportunity they wanted to do something like this. And on 21st of September 2016, their opening night at Curtin, they did.
"Our guests came to the restaurant thinking that they were coming to our opening night but instead we presented them with the menu and it had no price tags on it. We asked them to pay what they wanted to and we said whatever you give us tonight is going towards [email protected]", says Sunita.
Daana has now hosted 10 events and raised about $15,500. "Recently we ran one for the Rotary Club. They were raising money for awareness against human trafficking and anti-slavery so that was a wonderful event."
"We were also part of the Canberra Hospital Foundation Care Share initiative and donated weekly Morning/Afternoon Tea to frontline healthcare workers during the shutdown period in April/May," says Sunita.

"We were able to donate approx 175 meals across six week period, meals were coordinated every week and we delivered to the unit we were requested to across the various Health facilities in Canberra".
Sunita wraps up by saying that there is a misconception that Indian food is all about heat and spice.
"Yes, there are those spicy hot curries, but the variety of India cuisines means there are dishes that will suit everyone's tastes. What we try to do is showcase that huge variety that we are so proud of. I like to think of India as many little countries living together and every couple of 100 kilometres you have a new language, a new culture and with that comes the new cuisines."
Find out more about Daana at https://daana.com.au/